Truth really can be stranger than fiction.
First Page - Now launched! All the stories are true, or based on real events. Unlimited reading for $4.99 / month. No downloads. Read on your phone, tablet or computer.
La verdad puede ser más extraña que la ficción.
First Page - ¡Ya está en marcha! Todas las historias son verídicas, o están basadas en hechos reales. Lectura ilimitada por $4.99 / mes. No hay que descargar nada. Lea en su teléfono, tableta u ordenador.

---
Is The Covid-19 Vaccine Mandate Of God? Or Is It Evil?
Did you know the Word of God (the Christian Bible) speaks directly against what governments are doing with Covid-19 vaccine mandates? Get the facts here
¿Viene de Dios el mandato de vacuna contra el Covid-19? O ¿acaso es malo?
¿Sabía que la Palabra de Dios (la Biblia cristiana) condena de manera directa lo que los gobiernos están haciendo a través de los mandatos de vacuna contra el Covid-19? Obtenga los hechos aquí.
---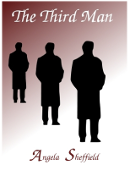 Was There A Curse On Helen's Romantic Life?
The Third Man by Angela Sheffield is based on a true story. Read chapter one now!
---
Should A Christian Practice Yoga Or Pilates? The Shocking Truth
Perhaps you practice yoga for health reasons, or to reduce stress. But, do you really know the diabolical goal of any form or style of yoga, including pilates? Get your answers here
La verdad espeluznante sobre el yoga revelada por la Biblia cristiana
Quizás practiques yoga por motivos de salud o para reducir el estrés. Pero, ¿realmente conoces el objetivo diabólico de cualquier forma o estilo de yoga, incluido el pilates? Obten tus respuestas aquí.
---
Communicating With The Dead: Learn The Shocking Truth
The spirit you think is mom, dad, or some other loved one from beyond the grave is NOT your loved one. But, what about the "proof" that the living can indeed talk to the dead? Let God's Word open your eyes to a deception that is pure evil. Read Spirits Of The Deceased
Comunicarse con los muertos: La impactante verdad
El espíritu que parece ser tu madre, padre o algún otro ser querido tuyo desde el más allá NO es tu ser querido. Pero, ¿qué hay de "la prueba" de que los vivos pueden comunicarse con los muertos? Permite que la Palabra de Dios te abra los ojos para que veas el engaño que es de la maldad pura. Te invitamos a leer ¿Están los muertos entre los vivos?
View Content By Specific Category
---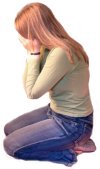 Help me with my unruly teenager!
Contact one of our nationally certified Christian life coaches who specializes in working with at-risk youth. Tell me more!
---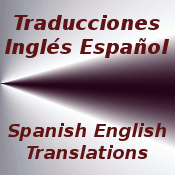 ---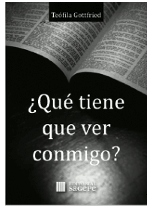 ¿Qué tiene que ver conmigo? por Teófila Gottfried
Lo que leemos en la Biblia tiene que ver con todos los seres humanos, sean cristianos o judíos, ateos o agnósticos, budistas, musulmanes o adherentes a alguna de las filosofías o nuevas religiones que surgen en el mundo. ¿Por qué? Ver mayor información sobre este interesante libro.
---
Reasons for Resistance to the Gospel and to Becoming a Christian

Four Main Reasons for Resistance to the Gospel
Many people resist the idea of becoming a Christian; I was one of such a group myself some 12 years ago. Actually, I believe there are four main groups of people who have a resistance to the gospel: 1. the bitter 2. the ignorant of their need for Christ 3. those who willfully choose unrighteousness 4. those who have been wronged by "Christians." These reasons for not becoming a Christian should be understood not only by those who are resisting, but also by God's servants all of whom have a duty to share the gospel of Christ (Matthew 28:19-20). You can always be more effective when you understand and realize reasons for which people turn a deaf ear, rant and rave, become enraged, try to change the subject, lie, make excuses, put up a pretense, philosophize, and who knows what else.
The Bitter Against God
It shouldn't be difficult to remember that there are people who are not in fellowship with Christ and who have fallen out of fellowship with him because of bitterness stemming from injustices they've endured. This should not always be viewed as an "excuse" for not becoming a Christian; it's a genuine reason with which true Christians deal according to God's word and the leading of his Spirit. Scripture plainly tells us that bitterness can not only affect the unbeliever, it also tries to creep into the spirit of the believer who must let God's word guard his mind. Hebrews 12:15 warns, "Looking diligently lest any man fail of the grace of God; lest any root of bitterness springing up trouble you, and thereby many be defiled." We also see in scripture where God's Spirit revealed to his servant, Peter, the bitterness that lurked in the heart of another man named Simon. Acts 8:20-23 records, "But Peter said unto him, Thy money perish with thee, because thou hast thought that the gift of God may be purchased with money. Thou hast neither part nor lot in this matter: for thy heart is not right in the sight of God. Repent therefore of this thy wickedness, and pray God, if perhaps the thought of thine heart may be forgiven thee. For I perceive that thou art in the gall of bitterness, and in the bond of iniquity." If you read the entire account of this event, you can see how neither the wicked man's actions nor his speech revealed bitterness. It appeared as though he simply didn't understand the gift of God; but, Peter was given to know otherwise.
The Spiritually Blinded
The Bible has also dealt with the problem of people being ignorant of their need for Christ as a real and prevalent reason for resistance to the gospel and to becoming a Christian. Many of these people simply don't see any real need to come to repentance, to give their life to Christ, or to worry about where they're going when they die. It's easier to just not think about these things. If someone brings them up and causes them to think, their solution is to dismiss the thoughts until any second thoughts or fear go away. This is the group with which I can best identify having been of that mind myself. Although I now love the Lord dearly and for me there is no life without him, I don't forget the attitudes I held and from which he saved me. While this group might sound like the most promising of the four when it comes to conquering resistance to the gospel and to becoming a Christian, this is not necessarily the case.
Consider the apostle Paul when he was the tyrannical Saul of Tarsus, persecutor of believers in Christ who even promoted and supported the torture and murder of Christians before becoming a Christian himself. What did Paul say about himself? He said, "And I thank Christ Jesus our Lord, who hath enabled me, for that he counted me faithful, putting me into the ministry; who was before a blasphemer, and a persecutor, and injurious: but I obtained mercy because I did it ignorantly in unbelief" (I Timothy 1:12-13). Among this group are those who cannot see their need for the Savior because they cannot see at all, spiritually. Paul taught, "But if our gospel be hid, it is hid to them that are lost: In whom the god of this world hath blinded the minds of them which believe not, lest the light of the glorious gospel of Christ, who is the image of God, should shine unto them" (II Corinthians 3-4).
The Willfully Blinded
Although scripture reveals that all who have not come to repentance are spiritually blind, not all receive the mercy that Paul did. Why? Because there are those who are willfully blinded and deliberately ignorant of God's word because they choose unrighteousness in their very conscious decision to reject Christ, to continue in resistance to the gospel and to becoming a Christian. Among the numerous scriptures that reveal this truth is II Thessalonians 10-12. This same passage also reveals the spiritual doom that such people invite to themselves. "And with all deceivableness of unrighteousness in them that perish because they received not the love of the truth, that they might be saved. And for this cause God shall send them strong delusion that they should believe a lie: that they all might be damned who believed not the truth, but had pleasure in unrighteousness." Yes, there are those who take pleasure in unrighteousness which fuels their resistance to the gospel and to becoming a Christian.
Wronged by "Christians"
There's also the group who presents resistance to the gospel and to becoming a Christian because of the behavior they observe in those who say they are Christian. This, like every other reason for rejecting Jesus, is strongly dealt with in scripture. True believers in
Christ
are obedient to his word because to truly believe is to obey. This is why we read, "But they have not all obeyed the gospel. For Esaias saith, Lord who hath believed our report" (Romans 10:16). To believe is to obey. As soon as
Adam and Eve
stopped believing that they would die if they ate the forbidden fruit, they disobeyed (they ate). If to believe is to obey, then to not believe is to disobey. Therefore, believers are obedient and unbelievers are disobedient. The biblical definition of
faith in God
is not simply an intellectual belief in his eternal existence, but rather true faith is obedience because true faith compels obedience. Nevertheless, what's to stop anyone from claiming Christianity? Absolutely nothing. This means that the disobedient can claim a relationship with God while their behavior discourages desire to be Christian.
Again, there are ample scriptures that not only warn of the woes that await false prophets, teachers, and preachers, but also the woes that await people who define Christianity based on man's behavior and not on God's word which cannot be defiled. One such scripture is Romans 3:3-4 which warns, "For what if some did not believe (obey)? Shall their unbelief (disobedience) make the faith of God without effect? God forbid: yea, let God be true, but every man a liar; as it is written, That thou mightest be justified in thy sayings and mightest overcome when thou art judged." Salvation is a personal responsibility towards God. Each true believer is concerned about aligning his behavior with God's word, not with man's behavior which might or might not be righteous. This is why the scripture says, ...Let a man examine himself..." (I Corinthians 11:28). It doesn't say for a man to examine others; it says for him to examine himself.
Questioning Someone's Resistance to the Gospel and to Becoming a Christian
So, how do you know when you're dealing with one of these attitudes? Sometimes it will be obvious by what the individual says and how he reacts when he hears the gospel; sometimes it won't be obvious. The scriptures enlighten the believer on spiritual matters; but, Christian evangelism is of no effect without the guidance of the Spirit who's the only one who knows exactly what's going on and how to lead the believer into the appropriate action and the right words to say. Remember that, "...the word of God is quick (alive) and powerful, and sharper than any two-edged sword, piercing even to the dividing asunder of soul and spirit, and of the joints and marrow, and is a discerner of the thoughts and intents of the heart. Neither is there any creature that is not manifest in his sight: but all things are naked and opened unto the eyes of him with whom we have to do" (Hebrews 4:12-13).
---
International Bible Study Online

Study the Bible with us no matter where you live. More information here.
Estudio bíblico internacional en linea

Estudiad la Biblia con nosotros sin importar dónde viváis. Más información.

Copyright notice: This website and its content is copyright of © Heavenly Manna (HeavenlyManna.net) 2002-2016.

Comments/Comentarios:
Send Comments or a Private Message about One of Our Services / Envíe Comentarios o un Mensaje Privado acerca de nuestros servicios
Once comments reach 10, they close. IF YOU USE PROFANITY, WE WILL REJECT YOUR COMMENT AUTOMATICALLY.
We're a small team, please be patient as we review comments.
, Wikimedia Commons. Multiple crosses image - Wikimedia Commons -