---
Is The Covid-19 Vaccine Mandate Of God? Or Is It Evil?
Did you know the Word of God (the Christian Bible) speaks directly against what governments are doing with Covid-19 vaccine mandates? Get the facts here
¿Viene de Dios el mandato de vacuna contra el Covid-19? O ¿acaso es malo?
¿Sabía que la Palabra de Dios (la Biblia cristiana) condena de manera directa lo que los gobiernos están haciendo a través de los mandatos de vacuna contra el Covid-19? Obtenga los hechos aquí.
---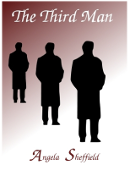 Was There A Curse On Helen's Romantic Life?
The Third Man by Angela Sheffield is based on a true story. Read chapter one now!
---
Should A Christian Practice Yoga Or Pilates? The Shocking Truth
Perhaps you practice yoga for health reasons, or to reduce stress. But, do you really know the diabolical goal of any form or style of yoga, including pilates? Get your answers here
La verdad espeluznante sobre el yoga revelada por la Biblia cristiana
Quizás practiques yoga por motivos de salud o para reducir el estrés. Pero, ¿realmente conoces el objetivo diabólico de cualquier forma o estilo de yoga, incluido el pilates? Obten tus respuestas aquí.
---
Communicating With The Dead: Learn The Shocking Truth
The spirit you think is mom, dad, or some other loved one from beyond the grave is NOT your loved one. But, what about the "proof" that the living can indeed talk to the dead? Let God's Word open your eyes to a deception that is pure evil. Read Spirits Of The Deceased
Comunicarse con los muertos: La impactante verdad
El espíritu que parece ser tu madre, padre o algún otro ser querido tuyo desde el más allá NO es tu ser querido. Pero, ¿qué hay de "la prueba" de que los vivos pueden comunicarse con los muertos? Permite que la Palabra de Dios te abra los ojos para que veas el engaño que es de la maldad pura. Te invitamos a leer ¿Están los muertos entre los vivos?
View Content By Specific Category
Christian Store Departments

Las experiencias cercanas a la muerte: ¿Qué dice la Biblia cristiana?
¡Véase un extracto de este libro que nos hace abrir los ojos!
---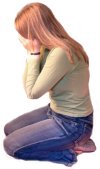 Help me with my unruly teenager!
Contact one of our nationally certified Christian life coaches who specializes in working with at-risk youth. Tell me more!
---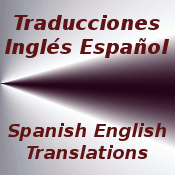 ---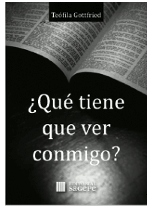 ¿Qué tiene que ver conmigo? por Teófila Gottfried
Lo que leemos en la Biblia tiene que ver con todos los seres humanos, sean cristianos o judíos, ateos o agnósticos, budistas, musulmanes o adherentes a alguna de las filosofías o nuevas religiones que surgen en el mundo. ¿Por qué? Ver mayor información sobre este interesante libro.
---
Entender la dimensión desconocida del mundo real: Revelaciones divinas
La Biblia cristiana de cobertura a cobertura trata sobre todo lo relacionado con la dimensión desconocida, también llamada la quinta dimensión. Más información aquí.
---
Historias paranormales verídicas: ¿Explica la Biblia cristiana la quinta dimensión?
---
---
No Journey Back to Prison

A voice in his mind reminded him that it's not over until it's over--until the final chapter has been written. The other voice told him to prepare for the journey back to prison. The hands of the clock in his small room appeared to wave goodbye to the hope he had fought so hard to keep for a future in the free world.

The social worker had begun to encourage him shortly after his case was assigned to her. She had done everything in her power to help him find employment so that he would not have to make the journey back to prison. Now, it was up to a higher power. He had heard of the miraculous true stories of others who were the recipients of the salvation of God. But, that morning he had opened his eyes to the day on which the trip back to prison was scheduled. It was all over--or was it? Read this true story of the intervention of God for salvation.

=============

As Seth filed off the big, gray bus along with the others arriving in Waterloo, Iowa at the Mohawk Half-way House for Men, he thought, This is it. I'm not going back. Waterloo is going to be the place where I get my new start.

Seth was tall--six-foot, three inches. He had celebrated his twenty-seventh birthday in prison a few months earlier.

Seth had been raised in Dubuque, Iowa. That's where all of his school chums and running buddies lived. His Burt Reynolds looks had brought him much attention from the ladies--young and old. It was also the place where he, along with some of his buddies had started his life of crime.

When he was a teenager, doing time in the detention center had been a breeze. After a few chores and group counseling he and the other residents could hang out shooting pool and hoops. But the past four years spent cooped up in a tiny cell for close to twenty hours a day, or watching his back when on the yard, had been a living nightmare. Well, no more! He was staying out of prison if he had to mop floors or flip burgers.

Six weeks wasn't very long for a stranger in town to find a job--especially a guy with a prison record. Three weeks passed with no job offers. Seth lit a cigarette and began pacing back and forth. "I'm gonna end up going back to the joint," he said aloud. Help me God to turn my life around, he prayed silently. "How's a man supposed to change when no one will give him a chance?" he mumbled.

"Hey, how's it goin'?" Seth's roommate, Warren Jenkins was home from work. Warren was a happy-go-lucky, twenty-two year old from Waterloo. He had returned there from prison because with acquaintances who could give him a job--at least on paper, he didn't have to worry about going back to prison.

"Man it's rough. My stomach is in knots. I don't want to go back to the joint." Seth was shaking his head from side to side as he spoke through clenched teeth.

"Hey, what happened to all that confidence you had when you first got here? Cool it man! Somethin' 'ill turn up." Warren paused for a moment. "Matter a fact..." Warren snapped his fingers as he recalled information he thought would be helpful to his roommate. "There's a place called TECA. Ah-ah-ah, it stands for Training..." He paused. "I forgot. Anyway, it's up on East Fourth Street. I hear there's a lady there who really tries to help us guys."

Seth had stopped pacing. "Have you been there?" he asked looking intently at Warren.

"Naa-aa, they got two days a week they call "walk-in days". But I forgot what two days. All the other days you gotta' have an appointment.

"Man, why haven't you been over there! I'm callin' right now and find out if I can walk in tomorrow." Seth left the room to go to the front desk to use the phone. When the call ended, he had an appointment for nine o'clock the following morning with a Manpower Specialist, Lucille Walters. A surge of hope rushed through Seth. "Please, God. Let there be something to this Program," he whispered.

Seth arrived for his appointment at eight-thirty. Cathy, the receptionist buzzed Lucille to inform her that her nine o'clock appointment had arrived.

"He can wait," came the reply. Lucille Walters was a tall, attractive, forty-two year old divorcee. She was raising an eleven-year old daughter named, Danielle whom Lucille adored.

Lucille rose from her desk and strolled through the Reception area to get a look at this "Mr. Seth". Was he dressed for an interview? He was early--that was a good sign. Lucille returned to her desk, buzzed the receptionist and asked her to send in her 9:00 o'clock appointment.

Seth, wearing a gray polo shirt with a black waist length summer jacket and neatly pressed jeans entered her office looking for all the world like he was scared out of his wit. He carried his paperwork directly in front of him, holding its edges with both hands as though it were something fragile. His hazel eyes spotted Lucille. A surprised look came over his face. Oh, she's a black lady, he thought.

"Please have a seat Mr. Myerson," Lucille said gesturing to the chair directly at the side of her desk. She remembered the day she had rearranged her office because of Mr. Calvin Lovelace.

____________________



"...alright, I need to take a work history prior to your incarceration." Calvin Lovelace was squirming. He'd turn his back to Lucille to watch the doorway, then turn back, partially facing her to answer the question.

"Mr. Lovelace. Is there a problem?" Lucille finally asked as she impatiently placed her pen on her desk and rested her hands--fingers intertwined on the desk pad in front of her. She was waiting!

"This may sound kinda' stupid," Calvin Lovelace began. "But people who have been in the joint won't sit with their backs to a door. You see, in there you've got to WATCH your back all the time."

Lucille eyed him a few seconds, questioning the validity of his statement. She then rose suddenly. "Will you help me turn my desk around?" she asked.

Caught off guard, Calvin mumbled, "Ah-ah-ah, yeah."

With the client's chair now at the side of her desk, Mr. Lovelace and all the other half-way house residents could be more relaxed. While moving her desk, Lucille thought of her oldest son, Timothy, who had done time at the Fort Mason Maximum Security Prison--the same prison the guys she was now interviewing everyday were from. Wherever Timothy was she hoped someone would give him the same consideration.

Fear of someone doing you harm was an awful feeling. The beatings she endured while married to Timothy's father, Robert had left her afraid to speak her mind, leave her home, or even try to have one friend. It seemed anything she did resulted in a beating. Well, that was a long time ago. And it would never happen again because she'd never marry again. Never!

Mr. Calvin Lovelace was now comfortably seated at the side of her desk with his back to a wall.

"I'm sorry to be such a bother, you know, the desk and all..."

"No problem." Lucille smiled at her client.

Most of the men at the half-way house, including Seth had learned of the rearrangement of Lucille's office. Most appreciated it. However, none commented directly to her except Seth. He sat down, shifted his weight and cleared his throat while Lucille read through his paperwork. She looked up from the pages and said, "Well, let's see if we can't get you workin'."

"Sounds good to me." Seth grinned nervously. "By the way..." He paused. "Thanks for..." Seth made hand, eye, and head gestures indicating the room rearrangement.

Lucille smiled. "No problem. I see that you mostly did construction work before your incarceration. Are you interested in returning to that at all?"

"Yes. As a matter of fact, I like it because I like the physical labor, it pays good, and you get to take winters off and draw unemployment. During the winter is a time when you can work on some of your own ideas. You know, things like hobbies that you know you can turn into a job if only you had the time."

"I know," Lucille responded thinking of all the half completed short stories she'd written, and hoped to get published someday.

"I'm gonna' make a quick call to the owner of a construction firm to see if he needs any help," Lucille explained as she thumbed through her Rolodex. She lifted the phone receiver and began to punch out the numbers. After a short pause, she spoke into the receiver. "Hi Evaline. How are you?"

I wonder if she looked at my arrival and departure dates, Seth thought as he grew more nervous by the minute. It would be disastrous for him to get so close to freedom and then be sent back to prison.

"...so he's not there? Lucille responded to Evaline. "Will you please have him call me as soon as possible. I'll be here 'til four-thirty this afternoon. Thanks. Bye." Lucille hung up the phone and looked at Seth. "I've known Mr. Ducalski since I was a kid. If he can help us out, he will. I'll keep callin' and we'll get you something."

"Well." Seth sighed shifting in his seat. "I go back in a couple of weeks." His stomach was in knots again. Big black Al will still be there. Seth thought. I just can't go back to that place! Seth couldn't understand how people could live their lives in and out of prison. Once was enough for him. He was learning that life after one gets out of prison was like always being between a rock and a hard place.

Seth looked into Lucille's eyes. "I really want a job. Not just to stay out of prison--although I would hate it if I had to go back." He chuckled nervously. "I'm tired of this life I've been livin'. I know you must hear that a lot, and I don't know how I can convince you that I really mean it." He shrugged his shoulders. There was a brief silence. Lucille believed him. Nevertheless, he would get her test.

"Well, Mr. Seth, when you get your job... And you will get one before you have to climb on that bus back to Fort Mason, just remember it was God giving you another chance." She was looking into his eyes. "If you're sincere, I will do everything in my power to see to it that you stay out of prison.

Seth believed her.

Lucille took a slip of paper from the holder on her desk and began to write. When she was finished she handed it to Seth. "Be there at 7:30 tomorrow morning. This agency has access to job information that's not available to us here at TECA. Mitch, the guy who runs the program is a friend of mine. He'll help anyone I send to him. You have to get there at 7:30 in the morning though."

Seth folded the paper and stuck it in his inside pocket as he rose to leave. Lucille stood up to escort him to the door.

"I'll be there," he said shaking her hand.

When he left, Lucille wondered what Seth's reaction would be after he'd taken two buses to keep the appointment and learned in less than five minutes that there was no job referral. What would he say? What would he think? How would he react towards her the next time they met? Would he lose it? Would he give up? If he passed the test she'd see to it that he didn't return on that bus.

It was 10:30 the following morning when he called.

"Lucille?"

"Oh, good morning Seth," Lucille greeted cheerfully.

"That guy you sent me to see said he didn't have anything." Seth's voice was calm. "Man, I was there only a few minutes after taking two buses across town. It was very disappointing."

Lucille was listening for any sound of anger. But it wasn't there. Disappointment, a little desperation maybe, but not anger. She knew it! He was making a genuine effort to stay out and turn his life around. She'd see to it that he was given that chance.

A chance that just might come through sooner than either of them thought. Seth had no idea that Lucille had spoken with Mr. Ducalski earlier that morning. The contractor had informed her that he would hire Seth in a few weeks if he got the government contract for which he had bid. She said a prayer for Seth that he would hold on.

"I have a couple of newspaper possibilities I'm gonna' check on. Is there anything more you'd like me to do today? Seth asked.

"No, but I would like to see you prepare a resume'. I'll help you with it if you like. I'd like to get it started sometime during the next couple of days."

"A resume'?"

"Yeah, I'll tell you more when I see you again. Why don't you come in Monday afternoon at 1:00 pm. And we'll get started."

"I don't think I really have anything to put on a resume' Lucille," Seth responded.

"Believe me, from looking at your work history, yes you do. I'll see you on Monday. Okay?"

During the following week Lucille kept Seth busy so he wouldn't get discouraged. She had him read the true story of a P.O.W., who kept courage and belief that he would return home someday. They worked on the resume' and Lucille set up the VCR in the visitor's room so Seth could watch some of her favorite videos--all dramas of underdogs overcoming the odds. Lucille had a few such stories of her own.

The day before Seth was to be returned to Fort Mason Prison he stopped by to say good-bye and to thank Lucille.

"I know you really tried. Maybe it just wasn't meant to be this time," Seth said sadly.

"Please don't give up Seth. I haven't. Mr. Ducalski is going to get that city contract and hire you."

In her spirit she knew Seth wasn't going back. It didn't matter that tomorrow was the return date. God was going to intervene in this man's life. God was going to honor the prayers she had said for Seth. He was going to honor the sincerity of Seth's heart. Seth grinned and walked out of her office. It was 1:15 pm.

"Stay near the phone," Lucille called out to him rising from her seat and leaning over her desk to throw her voice.

At 3:30 pm. Lucille's phone rang. It was Mr. Ducalski. She knew it was him before she lifted the receiver.

"This is Lucille," she answered. She then held her breath.

"You know that fella' you been buggin' me about?" Mr. Ducalski was shouting to be heard above the equipment noise in the background. "Can you get a hold of him right away?"

"I sure can," Lucille responded, tears welling in her eyes.

"Get a hold of him and tell him to get downtown to the corner of Sycamore and East Fourth as fast as he can. Two guys just walked on me!"

"He'll be there in a few minutes." Her fingers were trembling as she punched out the numbers to the half-way house.

"Hello!" She screamed into the receiver. "Get Seth to the phone." The wait seemed unending. The resident counselor went to inform Seth that it sounded like that woman he'd been workin' with over at that program, although he couldn't be sure because she had literally screamed into the receiver. The resident counselor let his voice rise to a mimicking scream, "GET SETH TO THE PHONE!"

"Hello?"

"Seth! Seth! Mr. Ducalski just called. He wants you to get downtown to the corner of East Fourth and Sycamore as fast as you can!" Get a hold of yourself, girl, she counseled herself.

"I know how to get there," Seth responded excitedly. "And I'm on my way." The phone went dead.

"Thank you God. Thank you," Lucille breathed wiping the tears away.

Seth didn't see Lucille for the next few weeks. He was never at the half-way house when she called.

Then unannounced, he stopped in one day to see her. It had been five weeks. When she looked up to see him standing in the doorway, a big grin spread over both their faces.

"Come on in," she motioned. "How've you been?"

"I've been just great. How about yourself?" he asked, still smiling.

"Good. Good." Lucille stood up and came from behind her desk to meet him.

"Well," Seth began. "I came by to tell you that I'm leaving Waterloo." He was still smiling. The smile faded from Lucille's face. Seth put his hands up, palms toward her to gesture that things were all right despite his leaving. She was waiting for his explanation.

"I have some great news. I've accepted a position as foreman of a new construction company in Mason City. I start next week. Don't worry though, I helped Mr. Ducalski finish up his contract. You had left the office by the time I got in every night so I couldn't return your phone calls. For a long time there, we were workin' twelve hour days.

Lucille's smile returned along with the tears.

"I'll never be able to thank you," Seth said turning towards the door so she couldn't see the tears forming in his own eyes.

Lucille walked around to face him, and gave in to her urge to give him a hug.

They said their good-byes and Seth walked out. Lucille said a prayer for the day that the lives of all her clients would turn out so well.

by Vanessa Winters
---
Donations / Donaciones
(Please scroll down for English) Si este contenido te ha resultado útil, y te gustaría ayudarnos a llegar a más gente con el evangelio, puedes colaborar con nostros por:
1. Recomendar este contenido a tus familiares, amigos y conocidos compartiendo el enlace en redes sociales, otras webs y blogs, y por correo electrónico. 2. Hacer una donación de cualquier cantidad. 3. Orar para que Dios siga bendiciendo esta obra. 4. Comprar en nuestra tienda.
Además de publicar cientos de artículos cristianos que tratan sobre una gran variedad de temas difíciles desde el punto de vista bíblico, traducimos a otros cuatros idiomas. Y damos clases de Biblia gratuitas. También respondemos las preguntas personales de nuestros visitantes.

ENGLISH:
If you've found this content helpful, and would like to help us reach more people with the gospel, you can do so in the following ways:
1. Recommend this content to your family, friends and acquaintanes by sharing the link on social media, other websites and blogs, and by e-mail. 2. Make a donation of any amount. 3. Pray God continues to bless this work. 4. Purchase from our store.
In addition to publishing hundreds of Christian articles that deal with a large variety of difficult questions from the biblical point of view, we translate to four additional langauges. And we conduct free Bible classes. We also personally respond to our visitors' inquiries and questions.
International Bible Study by Zoom

Study the Bible with us no matter where you live. More information here.
Estudio bíblico internacional por Zoom

Estudiad la Biblia con nosotros no importa dónde viváis. Más información.

Copyright notice: This website and its content is copyright of © Heavenly Manna (HeavenlyManna.net) 2002-2016.

Comments/Comentarios:
Send Comments or a Private Message about One of Our Services / Envíe Comentarios o un Mensaje Privado acerca de nuestros servicios
Once comments reach 10, they close. IF YOU USE PROFANITY, WE WILL REJECT YOUR COMMENT AUTOMATICALLY.
We're a small team, please be patient as we review comments.
, Wikimedia Commons. Multiple crosses image - Wikimedia Commons -